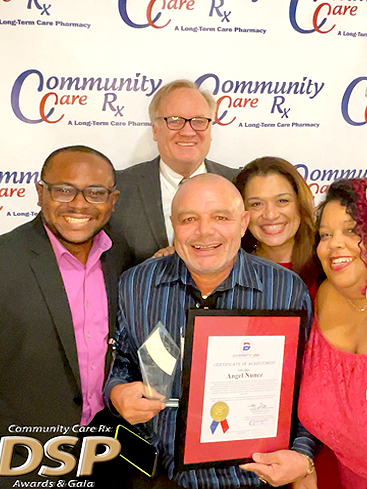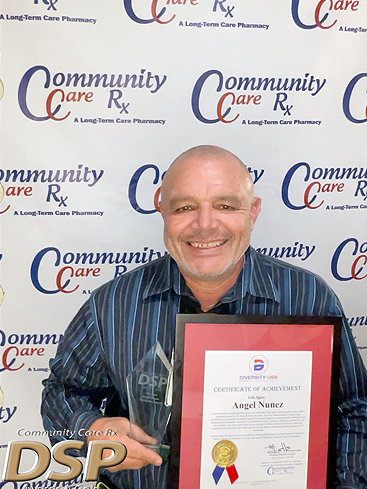 On Thurs, Nov 16, 2023, Community Care Rx held its 3rd Annual DSP Awards Dinner and Gala event. It was quite a memorable event with Jenna DeAngelis from CBS News giving her opening remarks and Hossam Maksoud, CEO of Community Care Rx welcoming all of the honorees that were chosen from many among several organizations throughout NY.
This year Lifespire is very proud to extend this special acknowledgement to Angel Nunez; an exceptional Direct Support Professional (DSP) who works at Lifespire's Work Residence. His supervisor, Tiffany Jackson, Residential Program Coordinator (RPC), recommended Angel for his extraordinary dedication and commitment to those entrusted in his care. Day-in and day-out Angel works closely with those he supports and has become a father figure and an exceptional role model to many. He is a team player and often wears many 'hats' to meet the needs for those who live at Work Residence. He is self-motivated to be available to do whatever is necessary so that people supported can live a healthy, independent, full life.
Angel enjoys being actively involved in the community alongside those who volunteer in their neighborhood food pantry. Those who know Angel say he brings joy and fulfillment with his seasoned experience to work every day. He eagerly anticipates accompanying those in his care to attend the YMCA - what a difference his presence makes to all who know Angel! Given the demands of a DSP today and its many challenges to do so much, Angel makes himself available to cover shifts and fill-in wherever necessary. He exemplifies what it means to hold the high standard of being a Direct Support Professional in our field. He shows compassion, has integrity, serves unselfishly and is always present to share his contagious smile.
Angel, on behalf of those you support at Lifespire, their families, co-workers, executive staff and the Board of Directors, thank you for being YOU!