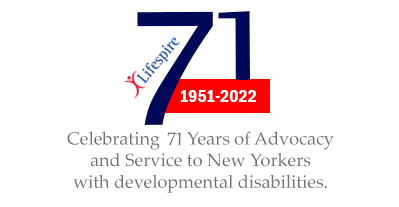 NEW YORK, NY – On November 29th, Lifespire
®

Inc. (www.lifespire.org) commemorated its 71st year of service to individuals with intellectual and developmental disabilities, specifically within the New York City region and Westchester County. The agency has been making a difference in thousands of lives spanning eight decades, originally organized in 1951 by Ida Rappaport and Harry Kamish.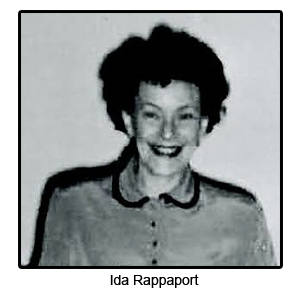 What began with a protest, and then grew into a process, today needs to be a persistent effort that creates meaningful and effectual change that impacts the lives of those served throughout the five boroughs and Westchester. Change, by definition, challenges the conventional, and with that being said, Lifespire creates integrative and safe environments where individuals with developmental disabilities engage with communities through a myriad of educational programs and activities.
"The reason that I, and the rest of the board, continue to stand with and for the Lifespire mission is because it brings forth meaning to all of us as an organization and as individuals," stated Michael Gross, Chairman of the Board. "Lifespire began by championing and supporting people who have intellectual/developmental disabilities with programs, tools and training to realize their goals and dreams. Now, 71 years later, that mission and vision remain as relevant and important today."

Moving forward, Lifespire has launched a massive recruitment initiative seeking to hire 200-300 Direct Service Professionals [DSP] to meet the growing demand for support people with IDD need to live and participate in their communities.
Every facility, every location, every program is usually accomplishing something significant with the barest of resources. The pandemic clearly exposed to us not only the vulnerability of those we are serving but even those who are serving in these critical capacities.
Beginnings
Lifespire's story began with Ida Rappaport, a tenacious mother of a young man with intellectual/developmental disabilities. She knew that change needed to happen, and she unflinchingly leveraged her skills as a labor organizer for the International Ladies Garment Workers Union, going door to door to organize parents to challenge the treatment of their children, which she felt was unfair. One of those doors was opened by Harry Kamish, who joined Ida in her mission on behalf of his own son and together they would soon lead "a movement" that successfully changed the law to guarantee educational rights for all public school students, which included those with intellectual/developmental disabilities. But they didn't stop there; Harry and Ida also led with the creation of a number of social and recreational programs that became vocational and residential opportunities for individuals with IDD.
Today Lifespire represents:
■ 85 locations within New York City's 5 boroughs, and Westchester and Ulster Counties
■ 118 residences
■ 12 day comprehensive service centers
■ A staff over 800
■ 5,000+ individuals served
* Lifespire is affiliated with, or represented in, major professional and regional groups involved in promoting the interest and welfare of individuals with intellectual/developmental disabilities.
About Lifespire®
Lifespire, Inc, founded in 1951, supports people with intellectual and developmental disabilities within the five boroughs and the state of New York including Ulster and Westchester counties. It is headquartered in the Wall Street area of Manhattan and has programs throughout the city. Currently the agency employs over 500 direct support professionals, clinicians, program directors, managers, and supervisors who operate within 85 different facilities and programs